VIETNAMESE FRIED SPRING ROLLS
There is a dish that can be served all year round, and present in almost every menu of Vietnamese restaurant abroad: A dish that is so famous that many locals of Vietnam assume it as their own specialty and give it their own name such as: "Nem Ran" by northerners and "Cha Gio" by southerners.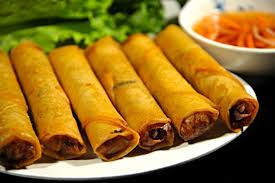 Fried spring roll was brought to Hanoi from the Southern part of Vietnam and this dish has rapidly become a favorite one of Hanoians, and to express the affection as well as to remember the real origin of the dish, people here call it "Nem Sai Gon".
Unlike popular myth, Vietnamese do not eat fried spring rolls with rice every day. In fact it is a preferred food on special occasions such as Tet and other family festivities. Spring rolls not always go along with rice but also seen with round noodle in the mouth-watering bún nem dish.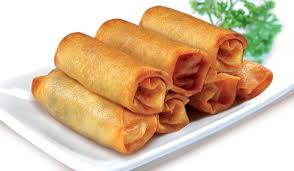 Ingredients used for the fried spring roll are different depending each local but usually it comprises of lean minced pork, sea crabs or unshelled shrimps, edible mushroom, dried onion, duck/chicken eggs, pepper, salt and different kinds of seasoning. There are also special variants of the traditional pork-based roll.
Whichever they are, all ingredients are mixed thoroughly before being wrapped with rice paper into small rolls. These rolls are then fried in boiling oil. The cooked rolls are usually garnished with fresh lettuce and herbs.
About Making the Roll:
Ingredients (measuring cup used, 1 cup = 250 ml)
1 cup all purpose flour/maida
3 tbsp corn starch/also known as corn flour in india
1.25 cups water or as required to make a flowing batter with a slight thin consistency
¼ tsp salt
1 to 2 tsp oil for making the wrappers
How to make the recipe:
Step 1: In a bowl, take 1 cup all purpose flour/maida, 3 tbsp corn starch and ¼ tsp salt.
Step 2: With a wired whisk or a spoon mix the dry ingredients.
Step 3: Add 1.25 cups water.
Step 4: Whisk well to a get smooth and slightly thin consistency of the batter without any lumps.
Step 5: The batter should be of a flowing consistency. depending on the quality of flour, you can add less or more water.
Step 6: Now on a low flame, heat a non stick pan. the pan should just become slightly hot and not too hot. you can also use a cast iron or steel pan. but make sure they are seasoned. with a paper tissue or a small piece of kitchen towel dipped in oil, grease the pan. for the nonstick pan you can skip oil. but if you feel the wrappers are sticking then grease or brush the pan with oil.
Step 7: Now lift the pan above the stove top burner. add 2 tbsp of the batter in the pan.
Step 8: Gently, spread the spoon clockwise to make a small thin pancake. similar to the way we make dosa. add 1 to 2 tbsp more water if the batter becomes thick while preparing the wrappers.
Step 9: Do remember that the pancakes have to be thin. if they become thick, then they break while rolling and sealing.
Step 10: Now on a low flame cook the pancake till the sides start curling up and the pancake becomes kind of translucent.
Step 11: The pancake just need to be cooked. no need to flip and cook the other side. just cook one side.
lift the pancake with a spatula.
Step 12: Place it in tray or plate with the cooked side facing you. allow to cool and then stack them with the cooked side on top. keep them covered in a small casserole or bowl.
Step 13:Here all the pancakes are ready. once they come at room temperature, you can start making the spring rolls. or else keep them covered in a container in the fridge.
Share this with your friends: